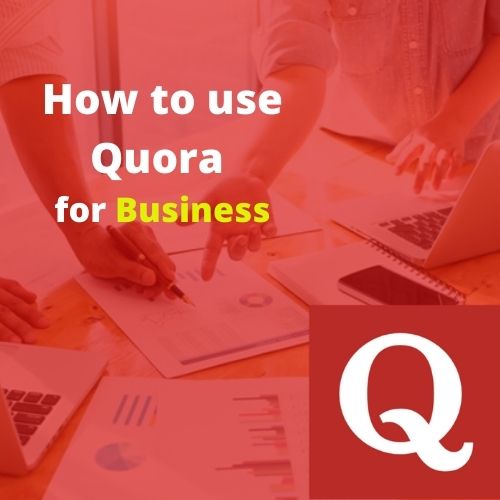 How to use Quora for business
Are you looking to promote your business or enhance the brand awareness of your business through an atypical social media tool? Then, Quora just might be the right choice for your business. Quora, when compared to other social media tools like Facebook, Twitter or LinkedIn, may not have a huge user base, but it helps marketers in enhancing their firm's business and increasing their brand awareness, just by answering a few questions.
What is Quora?
Quora is a question-and-answer platform that allows users to ask, answer and even edit responses to questions virtually related to any topic or industry. Adam D'Angelo, co-founder of Quora, describes it as, "a general place for people to share knowledge of all kinds", with a focus on, "high-quality content". Many of those who answer questions on quora are experts of the tech industry, such as Facebook's founder and CEO Mark Zukerberg.
History of Quora
Quora was founded in 2009 and launched in June of 2010. D'Angelo and Charlie Cheever , the founders of Quora, formerly worked for Facebook. D'Angelo then resigned his position at Facebook in order to create Quora. Their goal was to create a question-and-answer platform better than the existing ones. An iPhone app was launched in 2011 and an Android app was launched in 2012.
By March 2014, Quora had 1.15 million unique users of it's site. In April 2014, Quora became the second largest source of information after Wikipedia, with over 500,000 topics.
Purpose of Quora
On Quora, in general, answers are voted on by users and preference is given to those users who come from credible sources. Unlike many other social platforms, here users are supposed to register on the site using their real names and not as an alias. This ensures the credibility of the answers. Like other social networking sites, users can create profiles and can connect with other users as well as research about the topics of their interest on the site.
DÁngelo describes the motivation for the users as, "On Quora, you are not answering the questions because you want to get points or because you have nothing else to do. You are answering questions because you want to build your reputation or you genuinely, intrinsically enjoy helping other people. It's the same reason someone might want to make a website with information. We just made that a lot easier. "
What makes Quora unique in terms of content distribution?
What makes Quora unique is the reason people come to the platform. More than 300 million users visit Quora every month in order to conduct research, ask for tips, evaluate products and learn more about the world around them. This knowledge exchange gives valuable insights to people looking for new ideas or searching for new products.This could also include people looking for reliable information about your company, it's product or services, your business competitors or your business as a whole.
Unlike many other platforms where the knowledge shared gets buried or it disappears, the content shared on Quora is evergreen. This means the answers which users share aren't just relevant for a day, they are still easy to find, months and years later.
How to use Quora for business?
In times where customers are switching from the traditional methods to the online methods of marketing, advertising teams really need to focus on their marketing strategies and think outside the box. Successful marketing strategy no longer includes increasing the number of visits to your website, but you need to deliver such a value to your customers, which will make them follow you.
Quora is a great tool where you are looking to deliver value to your customers. You can do this by giving detailed answers to their questions. One must remember that the motto of advertising on Quora is to answer the questions of your audience rather than showing a advertising message to as many users as possible.
Here is how you get started –
#1. Create a brilliant bio
No matter which social media platform you might be using to promote your business. A great profile is mandatory. With Quora, it is somewhat different. You cannot create a profile for a brand in most cases. It can be created only for individuals. So, you will need to decide as to who in your organization will be responsible for posting answers.
Quora shows the first 50 characters in your profile, as a tagline above every answer you provide. So, you can include your company name here. By seeing this name, users will come to know where you come from. Your full bio can also include clickable links. However, you must use these links very modestly, as they help drive traffic back to your most useful website-based resources.
If your business focuses on niches, it is advisable for you to create topic-specific bios. For instance, you might have one bio which demonstrates your expertise as a Digital Marketer and one where you profit as a Content Writer. To create topic-specific bios click on your profile page. On the right hand side, you will see the 'Knows About' column.
Next to each topic you choose, you can display your experience in that area. Once you do that, the other things you can add are –
You have to make sure that your interests align with your business.
Include the information which shows your leadership qualities. You can add links to your website (moderately), if you think it can help you in offering more content.
Your employment and education credentials
Your location or the cities you visit regularly
An eye-catching profile picture. Generally, a clean head and shoulders shot is often recommended for professionals.
A complete bio makes it easy for the users to find you on Quora, as well as it speaks a lot about the credibility of your answers.
#2. Track relevant topics with notifications
One of the best ways to use Quora for marketing purposes is to conduct research. You will be able to find out as to what the industry experts are saying. You are able to track topics and have questions sent to your inbox. To begin, type a keyword into Quora's search box that you want to follow.
Quora automagically delivers a list of topic suggestions for you to explore. When you click on a topic page, you will also see another list of related topics at the side.
You have to hit the Follow button to start following a topic. You also need to make sure that your emails notifications are enabled correctly in order to get alerts. You need to go to your Settings page and click on Emails and Notifications.
You can also choose the frequency and the type of emails you receive from Quora.
#3. Find the right questions to answer
The secret behind learning how to Quora for marketing is in knowing which questions to answer. There are million queries floating on Quora today. However, not all of them will be able to bring value to your business. The significant thing must be to show users that you are an expert in a specific field.
One of the easiest ways to find relevant questions is to type a keyword in the query box at the top of the platform and select Search. Once the list of queries show up, you need to find the ones from the last month or so. You need to focus on the topics that are relevant right now in order to get the visibility you need. It also helps you in adding an authoritative voice to completely new discussions. You need to follow through the following points –
#4. Choose topics that fit your business –
Look for a topic which a product or service in your business works or solves efficiently or a topic that you have recently written about. The best way to answer any question with social proof, is with the help of a case study.
#5. Find threads with a lot of upvotes –
When you're browsing through Quora, you'll see an Upvotes section under each question. The threads with a lot of upvotes often have the most views. If you give an intuitive answer, it may get thousands of views a day.
#6. Make sure to answer the new questions too-
You do not need to exclusively focus on the most popular queries. If you answer new questions early, it fills your profile in terms of the evidence of your knowledge.
#7. Answer questions with passion and authority –
Once you have found questions that are relevant to your business, you need to make sure that your answers stand out in comparison with the others. Just one or two statements on "How to use WordPress" won't do. However, you can demonstrate your expertise related to that field and leadership by giving intuitive responses that contain links to relevant content on your blog, case studies and statistics.
You need to make sure that your answer reflects your passion for the topic. If you are trying to appeal to a younger audience you can use Quora's version of emojis.
One of the easiest ways to construct a great answer is to pull snippets from the content you've already created. Try to grab a significant quote from a recent article that you have written and expand on it, also make sure to complete it with a link back to your site.
The above images show you an example of an insightful answer.
Adding an image to your answer helps too. Graphs and charts are excellent at capturing attention. People follow visual instructions 323% better than the written ones.
#8. Connect with other Quora users –
Quora isn't just a search engine, it is a social media platform too. That means you need to be social. You also need to learn to connect with potential leads and customers. Quora allows users to communicate directly with each other.
For businesses, this is a great way to build relationships with customers. People may also ask questions about a specific product or service in your business. Who can answer that question better than a prominent employee of your company. Quora is a great platform to address the concerns and queries of your customer.
#9. Review your analytics constantly
While using other social media platforms, you can track your performance with tools like Google Analytics. The same goes with your Quora marketing strategy.
Being active on Quora is a great way to build credibility. The more answers you give, the more your presence and the reputation of the business will grow. However, you also need to monitor the kind of impact that your efforts are having. That way you are able to calculate the Return-On-Investment of your Question-Answer sessions.
With the help of Analytics, you are able to answer a lot of questions. You will be able to find out as to how many people viewed your answer to how many upvotes you got. In addition to this, if you add a tracking link to your answers, you will be able to measure how many valuable click-throughs you will be getting.